So I wrote a crossover spec episode of Brooklyn Nine-Nine and Westworld. If you haven't seen these shows, you might be confused if you read it. If you've seen neither, you'll likely be very confused. Hopefully, you've seen at least a few episodes, and wanna give this a read, and then maybe want to hear a little about my process. Enjoy!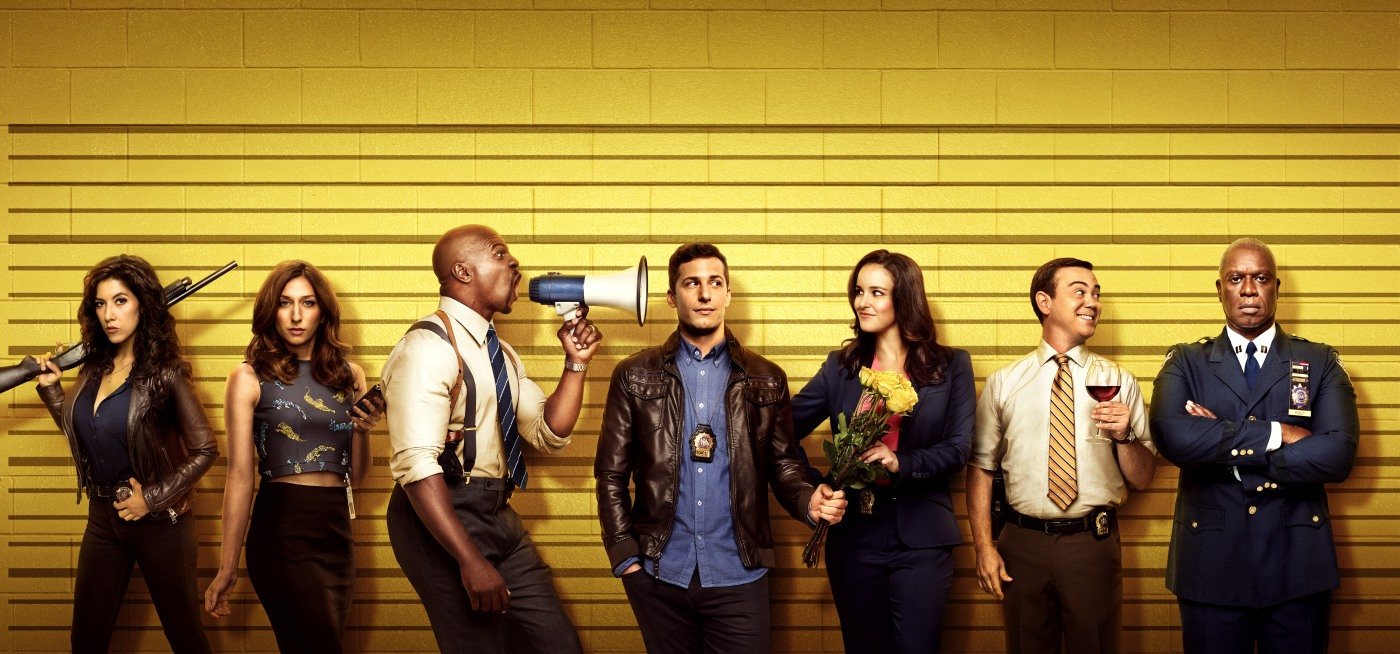 A Brooklyn Nine-Nine/Westworld Crossover
Why I Wanted to Write It
This script came about as I had just finished up a feature assignment, which had stretched me a bit, and I wanted something fun and low stakes to write. I was finally catching up on Westworld Season 2, and thought, "What if another cast were to go to the park?" and Brooklyn Nine-Nine immediately sprang to mind. I thought of a few others too, but none of them seemed as fun (to me, at least) as the Nine-Niners. I started jotting down some gags immediately.
Before we go any further, you should watch this opening that some talented friends of mine helped me put together.
Lead Animation - Chad Cox, Music - Chris Pratt, Rigging - Donald Netzel, Lighting - Kaitlin Duchene
Separate blog post on its creation coming soon!
Brooklyn Nine-Nine Breakdowns
In prep for this spec, I broke down five Brooklyn Nine-Nine episodes. I also read the Westworld script for The Bicameral Mind, but as I was going to try and follow a more Nine-Nine format, I didn't break that one down the way I did the B99 materials. And every night, I would watch an episode or two of each show.
There's a lot of information (and charts!) in the breakdowns so I've created a separate post for it.
For breaking down the Brooklyn Nine-Nine episodes, I really only wanted to look at page counts for acts, as I knew that a lot of the other things would be skewed considering I was mixing it up with Westworld. And while I knew that 45 pages was my goal, I wanted to try and keep the ratios similar for pacing purposes. While I knew it wouldn't be terribly relevant for my script (as I was adding in many Westworld characters) I went ahead and used the Gender Analysis tool in Highland 2 (thanks John August) to check out the way the lines were distributed in the various episodes I broke down. I've put the average across the five episodes I broke down in my post.
I would've done more episode breakdowns, but five episode scripts were all the official ones I could find online. (If you happen to have a source on more, please let me know so I can add them to my data.)
Writing The Spec
Alright, about the episode. Right away, there were a few things I knew I wanted. The first was that the Cold Open and the final Act were in the precinct. I felt it would bookend the story nicely, and reiterate the fact that in Westworld they'd be fish out of water.
I also knew that I wanted the plot to be about Holt, and explore his character as someone without expressive emotions in contrast to the "robots" of Westworld. This also allowed me to directly (through Ford) explore larger themes of television narratives in general, by drawing parallels between characters in episodic stories and the hosts of Westworld with their own "narratives."
I figured out who I wanted to interact with who in the various storylines, but other than that I didn't do nearly as much outlining as I usually do for my projects. Part of it was because this was something fun for me and not an assignment, but the other part was honestly that I am far less familiar with television structure than I am with features.
Storylines
When deciding how to split up the narrative, and which Westworld characters I wanted to interact with which Brooklyn Nine-Nine characters, I only thought of what I thought would be the most fun. Boyle, Rosa, and the Man in Black was the first one. And while I initially thought Rosa and the Man in Black would have similar worldviews (and wardrobe), I realized that having Boyle try to justify his in alignment with MiB's would offer more options. And Boyle's relationship with horses just came watching episodes in prep and seeing the Officer Peanut Butter opening.
Pairing Jake with Holt felt natural. If I wanted to explore the notion that Holt may be a host, I was going to have him be super capable at everything in Westworld, and the best foil for that was clearly Jake, who I thought would fancy himself a natural cowboy but be totally inept.
I wish I could've done more with Gina, Hitchcock and Scully, but I just didn't think I'd have the pages. And of everyone, Gina felt the least likely to be interested to go to Westworld. Although, if I'm honest, of all the character's voices, I personally have the most difficulty capturing Gina so maybe I did shy away from it a bit. I was glad to get her in there at the end, and even though I don't think she'd care that much, I thought it was totally reasonable that she'd be running the place within minutes.
Terry and Amy came together out of necessity. As a family man, I knew I wanted Terry with Maeve, and perhaps draw some comparisons between him as a strong father and Maeve as a strong mother. I ran out of room to dig into it as much as I would've liked, but at least they're together.
Jokes and Sex Tapes
I tried as much as possible to have the jokes in this script come from character and their points-of-view. One thing that I went back and forth on a lot was including the "title of your sex tape" jokes. My girlfriend was the one who rightly pointed out the show had moved away from them as Jake and Amy's relationship grew deeper. But the opportunity to just imagine Anthony Hopkins delivering a "title of your sex tape" joke was, in my opinion, too good to pass up. It did feel strange, given how Brooklyn Nine-Nine is currently written, to have Peralta do it earlier in the script, but I felt it was needed in order to set it up for Ford. I tried it without Peralta's set up earlier, and it came out of nowhere. So I kept Peralta's in the cold open but had Holt cut him off, which hopefully added some new comedy to it.
I also owe my girlfriend for the sharpening of Amy's point-of-view in regards to Maeve. I originally had Amy fawning over Maeve, but was easily convinced that Amy doesn't just love the organization itself, but the arts & crafts-ness of it all, and might be disappointed to lose the binders. Have smart readers people! They will make your scripts better!
Freeze Ending
The freeze ending with the squad was always in the outline, but the positions being their opening titles poses happened on the page. Once I discovered the idea, it took relatively little writing to make it happen. Throw Jake a "brain" a few pages earlier, and the rest took up the same amount of space. Not only is it more interesting visually, but I think helps drive home the theme of narrative self-awareness (even though they obviously aren't aware of their opening title poses).
Timeline
I tried not to put too many sign posts within the script regarding when this was taking place in the context of the shows. I wanted it to stand on it's own, even if you aren't fully caught up on either show. I did, however, put a stake in the ground in regards to Holt awaiting his promotion as Commissioner. As far as the Westworld timeline, trying to fit my story in to any sort of framework they have seemed like total guesswork, given the nature of that show. So I set it in a sort-of alternate timeline, somewhere around Season One given Maeve's self-awareness, Dolores' goals, and of course Ford. But I tried not to call too much attention to its "alternateness." It's a little bit more of a Brooklyn Nine-Nine spec than a Westworld spec, so I felt that I could take a few liberties there to make it work.
Loose Thoughts
I did a little internet digging to find out where the (fictional) 99 precinct was. BLANK had done the work for me. When I found out it's in Park Slope, I reached out to some friends who had lived there to find viable locations for a food truck. It was great when they separately suggested one of the same locations!

The dates mentioned were the last written, as I wanted to try and connect it to the season premiere dates.

You can imagine my anxiety when I thought Brooklyn Nine-Nine was cancelled! Thanks NBC! And speaking of thanks…
Thank You, Writers!
One thing I should absolutely mention is that if this crossover spec is any good, it's mostly in part to the writers of Brooklyn Nine-Nine and Westworld. Having such well constructed characters and worlds took a huge load off of the writing process, and I owe a lot to the work they put in when crafting their shows. It's a Herculean task, and writing (or attempting to capture, at least) in the voice of other characters makes you so thankful when they're clearly defined. I want to specifically thank Dan Goor and Michael Schur, and Jonathan Nolan and Lisa Joy. And while there are too many to name, I would like to dedicate this script to the staff writers, past and present, of the wonderful shows Brooklyn Nine-Nine, and Westworld.
If you read my script and want to talk Brooklyn Nine-Nine, Westworld, writing, or anything else, feel free to leave a comment here, or hit me up on Twitter @davidwappel.